Professional Theater in the Hudson Valley
M&M is the resident theater company of Lyndhurst, a site of the National Trust for Historic Preservation. Lyndhurst is a Gothic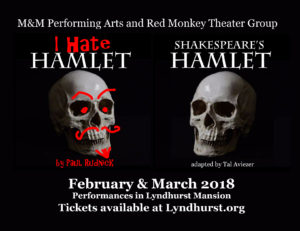 Revival masterpiece on the banks of the Hudson River in Tarrytown, NY.  Opening February 10, I Hate Hamlet will be performed in the Grand Picture Gallery of Lyndhurst in repertory with a co-production with Red Monkey Theater Group, Shakespeare's Hamlet.
M&M's Library Theater Series will open on January 28th with a production of The Prodigy, written and performed by Rick Apicella. Click here: Library Theater Series schedules and shows.
M&M Performing Arts Company, Inc. has been producing extraordinary theatre in the Hudson Valley since 2000. Recently, the Hudson Independent said that M&M was adept at "…stretching the imagination of an audience and then capturing it."
M&M was named Hudson Valley Magazine's "Editor's Choice" for the brilliant production of Comedies at Work, a series of corporate satires by award-winning authors Albi Gorn and Jim Whalen. The company was featured in The New York Times for its sizzling staging of Dinner with Friends and M&M's excellent Alice in Wonderland was selected as one of three "must sees" in Westchester County by Channel 12. Peter Kramer of The Journal News called M&M "Library Impresarios." M&M has been selected as a Westchester Magazine "Best of Westchester" for Theatre.
In New York City, M&M produced four shows in The New York International Fringe Festival: a co-production of a dance-performance piece by Virgin Dance, Salt Lake, the Ballet that was featured in The New York Times, and three plays Dream Lover, Hello I Must Be Going and Back to the Garden. M&M is proud to be a member of Theatre Resources Unlimited and produced plays for two of their Annual TRU Voices Play Reading Series.
With over 75 productions traveling to more than 50 venues in Westchester County and throughout the Hudson Valley and Connecticut, M&M continues to tickle, shock and inspire audiences, producing classic and contemporary plays and developing new works.  M&M is a 501c3 not for profit organization.