The 2016 Library Series
CONSTELLATIONS by Nick Payne
One relationship. Infinite possibilities. This spellbinding, romantic journey begins with a simple encounter between a man and a woman. But what happens next defies the boundaries of the world we think we know — delving into the infinite possibilities of their relationship and raising questions about the difference between choice and destiny. Just off the stage of Manhattan Theatre Club, the M&M production is directed by M&M favorite, Larry Schneider, and features Robin Gorn and Scott Faubel.
THE LAST ROMANCE by Joe DiPietro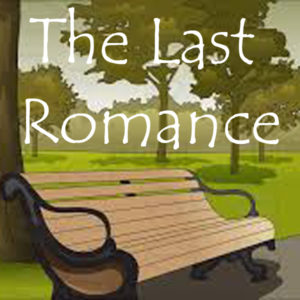 A crush can make anyone feel young again—even a widower named Ralph. On an ordinary day in a routine life, Ralph decides to take a different path on his daily walk—one that leads him to an unexpected second chance at love. Relying on a renewed boyish charm, Ralph attempts to woo the elegant, but distant, Carol. Defying Carol's reticence—and his sister's jealousy—Ralph embarks on the trip of a lifetime, and regains a happiness that seemed all but lost. The Last Romance is a heart-warming drama/comedy about the transformative power of love. Veteran director, Maureen Howard heads up this production featuring Carol Eagen, Dick Smith, Ann Signorelli and Janet Tinari.
ACTS OF REUNION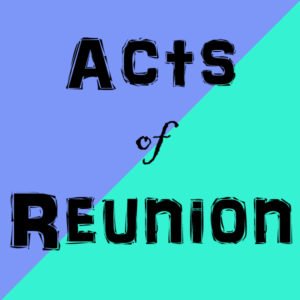 Two tales of folks reconnecting with and embracing their difficult pasts. A pair of One-Act dramas by local, award-winning playwrights. Othertown, written and directed by Albi Gorn with Contacts, written and directed by Richard Edwin Knipe, Jr.
In Othertown, a drama about an estranged brother and sister, formerly stars of a kids' TV show, try to sort out their past. It necessitates a visit to "Othertown," the site of their old show which may or may not really exist. Featured Duane Rutter and Catherine Banks .
In Contacts, a comedy/drama about an older woman seeks guidance from a young cell phone store employee regarding the use of her new smartphone. An unusual connection takes them on a journey greater than current technology can provide. Featured Brendan Ryan and Nancy Swann.
LOVE, LOSS AND WHAT I WORE
Postponed to Spring due to Rights Restrictions
By Nora Ephron and Delia Ephron, based on the book by Ilene Beckerman
BECKY SHAW
 In Red Monkey Theater Group's production of Gina Gionfriddo's Becky Shaw, a newlywed couple fixes up two romantically challenged friends. The wife's best friend is set to meet the husband's sexy and strange new co-worker. When an evening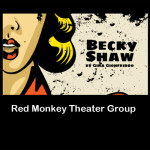 calculated to bring happiness takes a dark turn, crisis and comedy ensue in this wickedly funny play that asks what we owe the people we love and the strangers who land on our doorstep. The New York Times reviewer, Charles Isherwood called it "… a corker of a new play" when it opened at the Second Stage Theater in New York. Gionfriddo's comedy of bad manners, a tangled tale of love is as engrossing as it is ferociously funny, like a big box of fireworks fizzing and crackling across the stage from its first moments to its last. Directed by Joe Laureiro and features the acting talents of: Holland Renton, Sean M. Grady, Kelly Kirby, Ray Frye and Zoey Rutherford as Becky Shaw.
W.E.B. DuBOIS, A MAN FOR ALL TIME
Pulse Ensemble Theatre's production, written and directed by Alexa Kelly, entertains and enthralls, as it compels the viewer to travel on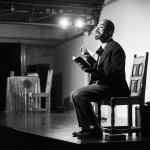 this near-100-year journey. Brian Richardson portrays W.E.B. DuBois, a black American born just after the Civil War, and 5 years after the Emancipation Proclamation. Du Bois broke many barriers: he attended and graduated from Harvard, studied in Europe, ran for Senator, co-found the NAACP, participated in the founding of the United Nations and saw segregation declared unconstitutional.