In 2015, M&M brought four great shows to the Hudson Valley: Sight Unseen, Gornucopia, Love, Loss and What I Wore and All I Need to Know About Life I Learned on the Radio
SIGHT UNSEEN
Sight Unseen is a play by Donald Margulies, acclaimed author of Time Stands Still, Dinner with Friends among many others that M&M has brought to libraries in the past. The play centers on Brooklyn-born Jonathan Waxman who has become a very wealthy, critically acclaimed artist. Happily married, with a baby on the way, he travels to London for a retrospective of his work. While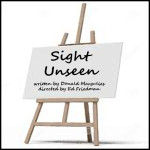 there, he impulsively decides to journey to the countryside to visit his former model and muse, Patricia, in the Norfolk farmhouse where she lives and works with her archaeologist husband Nick, a man she married in order to remain in England when her student visa expired. The play unfolds exploring issues of identity, home, and the place of art in our society. This production featured M&M veteran Robin Gorn with M&M debuts by Steve Plaushin, P.J. Glazer,  and Nadja Winter and was directed by Ed Friedman.
 GORNUCOPIA
Four quirky comedies from award-winning playwright Albi Gorn. A couple who dream a bit too vividly; a family with way too many skeletons in their closet; old friends who don't k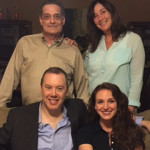 now each other at all; and a husband who needs his wife's forgiveness for a totally unforgivable act – add up to a fun and fascinating performance.  The cast was comprised of: Becca Quinn, Michael Lichtstein, Maggie Kramer and Albi Gorn. Gornucopia received Outstanding Achievement in Ensemble Acting for the library adjudication. Forgiveness won Best Production, and also the People's Choice Best Production. Maggie Kramer and Albi Gorn received Best Actor awards and People's Choice Best Actor awards all at the Theater Association of NY State Festival.
All I Need to Know About Life I Learned on the Radio
An Hour of Inspiration with Kacey Morabito–Grean who wrote and performs this production. There are a few "rules of radio" that actually apply quite nicely to life: smile, keep moving forw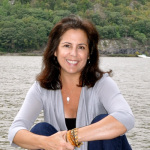 ard, tell the truth. Then there are the life lessons a radio personality learns along the way. With stories and music, Kacey Morabito-Grean of 100.7 WHUD creates an inspiring and uplifting hour of entertainment. With Q&A to follow. Kacey Morabito Grean has been waking up New York's Westchester and the Hudson Valley for the past 15 years.  As co host of  Mike and Kacey in the Morning on 100.7 WHUD she's up at 4 am and on the air from 5:30 – 10 a. Along with bringing you the latest news, sports and weather she's playing music from some of today's biggest stars. A 50 thousand watt powerhouse station, 100.7 WHUD has been on the air since 1971 and it's the radio station Kacey grew up with!  Radio is also Kacey's "first real job". She's been with the station since 1983. Kacey says there are radio  rules that apply beautifully to life – and there are the life lessons she'd has learned from being part of this crazy business for so long.
Love, Loss and What I Wore, writen by Nora Ephron and Delia Ephron, based on the book by Ilene Beckerman
Love, Loss, and What I Wore had a hugely successful 2 ½-year New York run Off-Broadway. A funny, compelling and touching tale. Women's stories of love and loss woven together to form a masterwork. A play of monologues and ensemble pieces about women, clothes and memory covering all the important subjects—mothers, prom dresses, mothers, buying bras, mothers, hating purses and why we only wear black. This production designed by Larry Schneider and featured Elizabeth Mialaret, Carol Eagen, Janice Fay Hanges, Kathy Files DiBiasi and Olivia Rerek.