Jay Ghoul's House of Curiosities at Lyndhurst Castle
There's a monster in every family, come meet ours!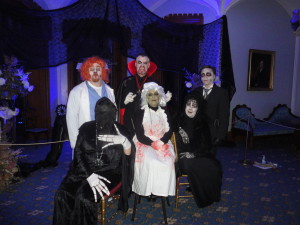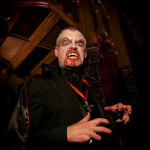 Adding to the variety of fall activities in the Sleepy Hollow/Tarrytown area, Lyndhurst debuts a new fun house for Halloween 2013.  The experience, one of the only indoor opportunities during the variable fall weather season, will utilize Lyndhurst's historic gothic castle as a backdrop to present a theatrical Halloween performance that's simultaneously eerie, scary, and beautiful. Additionally, Lyndhurst will offer a daytime tour experience that should appeal to those interested in history, the occult, and fall foliage.
"Jay Ghoul's House of Curiosities," introduces a cast of crazy family members and relations stationed throughout the Lyndhurst mansion that make most families look sane. Visitors will be guided through the eerily lit castle by Dr. Leslie Gravestone, the family physician. Along the way you'll meet the family attorney whose breath betrays a taste for the unspeakable, a wacky aunt whose crystal ball has a short-circuit to the netherworld, and the strange son who can't stop playing dirges on his harpsichord. The mansion's spectacular dining room has been set for a special meal prepared by the cook Mrs. Crockerpot, but you have been warned—do not go into the basement unless you want to risk ending up on the menu. While the experience will appeal to adults and teens, younger children can also participate as the most frightening element of the tour can easily be omitted.
Evening visitors will start their tour at the Lyndhurst carriage house where food, shopping and activities will be available.  Lyndhurst served as the location for two Dark Shadows films and fan club members and former cast members often staff the visitor waiting area and talk about the films as they will be shown. Following the tour, visitors can return on foot to their cars via the Lyndhurst scarecrow field or take a ride in a horse drawn wagon.
During the day, visitors can also get a unique seasonal experience. October is also a time that many interested in fall foliage come to Lyndhurst. During the day, visitors can tour the first and second floors of the mansion to learn about our fascination with the occult. Special tours will explain how many of the customs we associate with Halloween and the supernatural developed in actual practices during Victorian times.  Rarely seen, special items are taken out of Lyndhurst's vast storage collection of 4000 objects and placed on view for the month of October. Lyndhurst's grounds are particularly beautiful during the month.  As leaves turn color and start to fall, the spectacular views of the Tappan Zee Bridge and Hudson River open up.  The Lyndhurst Greenhouse lawn is filled with over 400 scarecrows dressed by local school and community groups.