M&M Performing Arts and Red Monkey Theater Group produce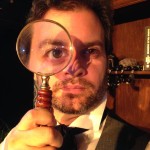 new adaptations of the Conan Doyle classics by Tal Aviezer. Past productions, all performed in Lyndhurst Mansion were the Adventures of the Dancing Men, the Copper Beeches and most recently the Blue Carbuncle.
This June, M&M and RMTG will take their next site-specific Sherlock Holmes mystery at historic Bartow-Pell Mansion Museum in Pelham Bay Park. Tickets available soon.
SHERLOCK HOLMES: THE MUSGRAVE RITUAL
An ancient family document hidden on the grounds of a beautiful country home hides a sinister ritual that only Sherlock Holmes can unlock – but some secrets might be best left buried. Together, we'll explore this gorgeous 19th-century estate and surrounding gardens on a quest to solve a deadly mystery.