Written by Tal Aviezer
A co-production with Red Monkey Theater Group
Join Sherlock Holmes (Tal Aviezer) and John Watson (Joe Laureiro) on a trip to the sinister Copper Beeches (played by the inimitable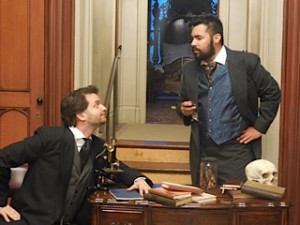 Lyndhurst Mansion), where a desperate young governess finds herself at the center of a baffling mystery. M&M and Red Monkey bring this fast-paced performance to Lyndhurst November 25, 26, 27 & 30, December 1, 2, 3 & 4, 2016. Tickets are $35.00 for adults and $30.00 for seniors and $25 for children (16 and under) and are available now at Lyndhurst.org or by calling 888-71-TICKETS. Group rates available at 914-303-6840. Free Parking. Appropriate for school-age children and up.
Together with the famous detectives, we'll explore the carriage house and mansion room-by-room as we're drawn deeper into the secrets of the Rucastle family – their threatening hound, menacingly enthusiastic patriarch, strange requests and rules, the locked and forbidden room on the top floor, and the mysterious stranger who keeps appearing at the windows.
The cast for Sherlock Holmes: The Adventure of the Copper Beeches is Tal Aviezer as Sherlock Holmes, Joe Laureiro as Dr. John Watson and includes: Peter J. Lillo, Emma Miller, Michael Muldoon and Melinda O'Brien.
"Do you know, Watson," said Holmes, "that it is one of the curses of a mind with a turn like mine that I must look at everything with reference to my own special subject. You look at these scattered houses, and you are impressed by their beauty. I look at them, and the only thought which comes to me is a feeling of their isolation and of the impunity with which crime may be committed here." – Sherlock Holmes: The Adventure of the Copper Beeches